(Edited and Updated; Originally published 4/15/13)
More than a handful of people have reported about finding strange red marks or dots in a grid pattern on their bodies. Unable to find answers from the medical community, and with little information on the phenomenon, these unnerved people turn to the only places it is mentioned: alien conspiracy sites. http://www.abovetopsecret.com/forum/thread359449/ titled "I have a grid of red markings on my hand."
In the interest of science, I am resisting the jump to assume these marks are being left by alien devices, despite its placement on the Above Top Secret website. My report will be purely based on the compiled testimonies of those who exhibit a legitimate case for having experienced the phenomenon.
Here are the physical symptoms reported: waking up wet or having severely sweated, prompting some to take shower upon waking wherein they notice the marks ; occurs during sleep ; marks are most common on back, but also reported on legs, arms, hands, shoulder, chest, buttocks, even forehead ; sensation of heat or burning at sight prior to or during appearance of marks ; fade within hours of occurrence and are disappeared by four days after initial finding on average, but in a few cases (see the image below) the mark were visible for weeks ; the most startling aspect to people who find these marks is the characteristic grid-like pattern of the marks where the dots are lined in rows (resembling that of a meat tenderizer) in a triangular, circular, or octagonal pattern (referred to as a 'honeycomb') ; individual dots range in size from a little more than pin pricks to perhaps 2 cm in diameter each ; total surface area of all dots on a person can range from a couple inches upon first notice of the mark to over 6 inches across, perhaps more ; individual dots are irregular in shape to one another, that is to say they are not perfect shapes, and are not always circular or dot-like, sometimes they are rectangular or without discernible shapes, but always still in grid formation ; skin of the affected area is not raised or indented, rather the marks appear subdermal, resembling in some case blood blisters just below the top layer of skin ; pain is rare in relation to the mark(s) other than the hotness ; no reports of itchiness at or around site ; despite skepticism that the sweating is indicative of night terrors, most do not recall dreaming that would produce the state in which they wake to, although a few report vivid dreams AFTER the event ; experiencers of this phenomenon assert they had done nothing to warrant the appearance of the mark like coming in contact with a heated instrument that would create the pattern, and it is not associated with any fabrics they have been wearing or leaned against ; bruising of the area sometimes occurs but rarely, depending on the extent of the area, suggesting some kind of impact force is involved or perhaps a blood-related event (like having blood drawn may bruise) ; experiences often report having had multiple occurrences of marks, not always in the same place or pattern though.
Reposted from the Above Top Secret thread, by chrysanthemum85 is this incredible photo of her mark, one of the most intriquing I've seen.
(The above image is the property of the original posting member from abovetopsecret.com, chrysanthemum85 and is used here solely to bring further investigation and public awareness to the phenomenon. Linked on page 5 of the site.
http://www.abovetopsecret.com/forum/thread359449/pg5#pid16027907
)
One experiencer, "Frogs" from the same thread states his belief that the marks are always there but appear in extreme hot or cold. To tend to his tendonitis, he soaked his hand in a bucket of ice water. Upon pulling out his hand, he noticed fresh marks.
In 1967, known as the Falcon Lake Incident, a rectangular grid pattern was found on Stephen Michalak (Information combined from the following links: http://thenightsky.org/michalak.html ; http://www.ufocasebook.com/Falconlake.html)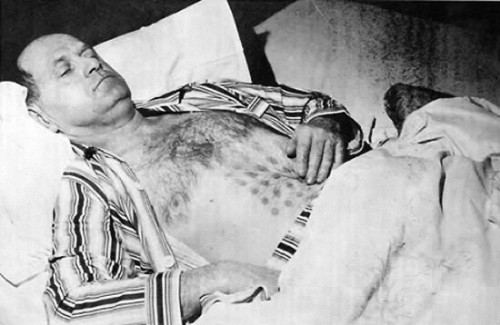 Michalak's incident was investigated by multiple government and civilian agencies, including the Canadian Air Force. At the end of his encounter with a landed unidentified craft (with no visible beings inside, though he had heard conversation aboard), what he calls a vent in a grid pattern blasted him in the chest igniting his shirt, which he tore off in pain. The craft then lifted off. Soon after he experienced nausea, dizziness, headache, vomiting, symptomatic of radiation exposure when coupled with the marks on his chest. He admitted himself to a hospital for treatment.
Those experiencing the waking red grid phenomenon do not report nausea or any other discomfort usually other than a slight burning. My case of severe aching in my wrists, hands, and forearms up to my elbows the entire day of the appearance of the marks on my palms seems rare. No one else I have read about has experienced the same waves of aching I did. I was afraid that day that I was developing a pain disorder and would be able to write anymore. But it subsided by the following day.
User MasterDebater mentioned when his dog was implanted with a microchip to be found if ever lost, the resulting print on the dog's skin was similar to what other posters were describing, only smaller and the dots were closer together. However, I cannot find an image of the skin after an implanting to compare.
Update:
Dutch medium Robbert van den Broeke discovered strange symbols on his forehead repeatedly after encountering two light beings with a friend Stan after one of his many sensed predictions of a crop circle appearance in a favored field.
To the casual perspective it would appear to be an odd sunburn. Could the light beings, often described as being brighter than the sun, be radiating energy enough to cause such a mark?
Also see
post
on my meeting with a medium and her notes on lightworkers reporting recurring red marks like bites and grids.
***
Read more on this continuing investigation by following our series of new case studies, dream queries, and related posts
here
under the Red Grid Mark Phenomenon (RGMP) archive listing.
Especially recommended is my
Leading Theory
report created from the compiled data. New case reports are still being added, so check back periodically.